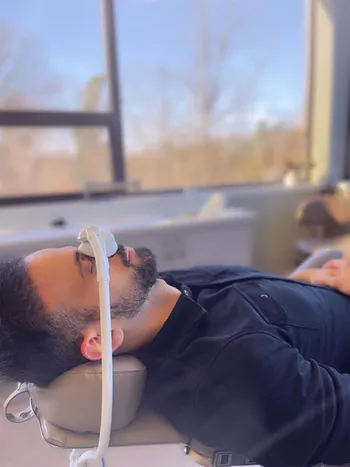 We are so excited to announce that Dr. Nika Sabri offers Nitrous Oxide (Known as laughing gas) a different level of conscious sedation to improve patients' dental experience in our clinic and to manage anxiety during dental treatment for patients of all ages. Utilizing Nitrous oxide by simply inhaling through a nasal hood during the dental procedures helps patients feel relaxed and calm. Patients who have undergone a dental procedure using Nitrous Oxide will feel the effects of the gas after a few minutes and by stopping it the effects wear off quickly.
Frequently Asked Questions:
– CAN I DRIVE ON MY OWN AFTER THE TREATMENT?
Yes, all the effects of Nitrous Oxide wear off shortly after stopping the gas.
– CAN I EAT BEFORE MY APPOINTMENT?
It advisable to avoid heavy meals for 2 hours prior to your appointment, you may drink clear liquid.
-WHO CAN USE NITROUS OXIDE?
All patients of all ages except patients with severe chronic obstructive pulmonary disease (COPD), Pregnancy (relative), Bleomycin chemotherapy within the past year.